Campsite rules for the Camping l'Évasion in Puy-L'évêque
L'Évasion campsite rules
L'Évasion welcomes new clients, and we hope that the environment and the atmosphere correspond to expectations. With respect to those clients who are returning, we are pleased to welcome them back.

So that we have the best relationship during your stay, may we ask you to respect the following advice;

• Safety

A / FIRE

Fire safety advice notices are posted in the toilet & shower block, but may we remind you that:
- It is forbidden to light fires other than in the barbeques provided for your use.
- dead branches found in the wood may be used.
- cigarette butts must be extinguished in ashtrays.
- children must not play with matches, lighters, candles or any object likely to produce sparks.
- extinguishers are provided in the wooded area, toilet & shower block and in numerous other locations, but the Prefecture recommends that you have one in your car.

B/ SWIMMING POOL

The pool is closed from 21.00hrs to 09.00hrs (except in exceptional circumstances). Everyone is responsible for the cleanliness of the water, so for everyone's benefit, please ensure that you take a shower before you use the pool, or after using sunbathing products.
THE SWIMMING POOL IS NOT SUPERVISED
YOU MUST NOT ALLOW YOUNG CHILDREN ALONE IN THE POOL.
PARENTS: You are responsible for your children and their acts in all places.
If need be, please ask about babysitters.

• Hygiene and the environment: each pitch is provided with a clean bin. Please use bin bags and empty the bin into the containers provided (on the D28 at the entry to l'Évasion). Do not leave papers or any other rubbish outside or around the bins provided.

Animals are accepted on the basis that they do not disturb anyone. Animals must be kept on a lead at all times, and the owner must be in possession of the vaccination record. Animals are prohibited in the toilet & shower block, the tennis court, the swimming pool (including beaches), and the flowerbeds.

• Les installations : he toilet & shower block must be kept spotlessly clean. So please ensure that young children are always accompanied, and leave your shoes at the door to the showers.

Ladies: May we politely remind you to use the small bins for sanitary towels and tampons.

In general, the signs advise you, if need be, of the conditions of use and access to our facilities: swimming pool, tennis court, play areas, fun and games for children less than 12yrs, sauna, washing machine, sinks for washing laundry or clothes, wash house ...

• To minimise wastage, please do not allow taps to run unnecessarily and switch off lights when you don't need them.
ADULTS ARE RESPONSIBLE FOR THEIR CHILDREN AND ANIMALS.
The speed limit within the grounds of l'Évasion is limited to 10kmh.
From 22.00hrs an absolute silence must be observed.
The restaurant closes every night at midnight, with the exception of special evenings.
All damage caused by failing to respect the campsite rules must be paid for.
Should you fail to respect the campsite rules, l'Évasion reserves the right to cancel your stay.

Last but not least, PLEASE respect your fellow holidaymakers. Your behaviour is a critical part of the atmosphere at l'Évasion. Thank you.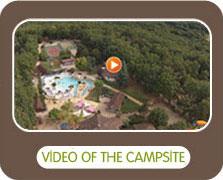 Special Offers
Consult our Special Offers
Nouveautés
• Trampoline
• Fun for Children
• Outdoor Fitness Area
Receptions
For your wedding, family or group gatherings, in addition to the accommodation for your guests we offer an extensive, original and varied restaurant menu in our unique and welcoming setting.